| HOME |
Overview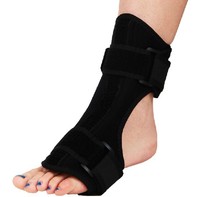 The Achilles tendon connects your calf muscles to your heel bone. Together, they help you push your heel off the ground and go up on your toes. You use these muscles and your Achilles tendon when you walk, run, and jump. If your Achilles tendon stretches too far, it can tear or rupture. If this happens, you may hear a snapping, cracking, or popping sound and feel a sharp pain in the back of your leg or ankle. Have trouble moving your foot to walk or go up stairs. Have difficulty standing on your toes. Have bruising or swelling in your leg or foot.
Causes
Factors that may increase your risk of Achilles tendon rupture include some of the following. Age. The peak age for Achilles tendon rupture is 30 to 40. Sex. Achilles tendon rupture is up to five times more likely to occur in men than in women. Recreational sports. Achilles tendon injuries occur more often during sports that involve running, jumping, and sudden starts and stops, such as soccer, basketball and tennis. Steroid injections. Doctors sometimes inject steroids into an ankle joint to reduce pain and inflammation. However, this medication can weaken nearby tendons and has been associated with Achilles tendon ruptures. Certain antibiotics. Fluoroquinolone antibiotics, such as ciprofloxacin (Cipro) or levofloxacin (Levaquin), increase the risk of Achilles tendon rupture.
Symptoms
Tendon strain or tendon inflammation (tendonitis) can occur from tendon injury or overuse and can lead to a rupture. Call your doctor if you have signs of minor tendon problems. Minor tenderness and possible swelling increases with activity. There is usually no specific event causing sudden pain and no obvious gap in the tendon. You can still walk or stand on your toes. Acute calf pain and swelling can indicate a tear or partial tear of the Achilles tendon where it meets the calf muscle. You may still be able to use that foot to walk, but you will need to see a specialist such as an orthopedic surgeon. Surgery is not usually done for partial tears. Sometimes special heel pads or orthotics in your shoes may help. Follow up with your doctor to check for tendonitis or strain before resuming activity, because both can increase the risk of tendon rupture. Any acute injury causing pain, swelling, and difficulty with weight-bearing activities such as standing and walking may indicate you have a tear in your Achilles tendon. Seek prompt medical attention from your doctor or emergency department. Do not delay! Early treatment results in better outcome. If you have any question or uncertainty, get it checked.
Diagnosis
Diagnosis is made mostly by clinical examination with a defect usually noted on visual examination and by touching the area. A simple test can be done by squeezing the back of the calf with the foot resting in the air. Normally when squeezing the muscle belly the tendon will shorten causing the foot to move in a downward position. With a rupture this squeezing effect may show no movement of the foot if it is not attached properly. A negative test does not mean there isn't some degree of rupture as some of the tendon fibers may still be attached. Sometimes x-rays, an mri, or an ultrasound can be helpful in determining the extent of the rupture.
Non Surgical Treatment
Medical therapy for a patient with an Achilles tendon rupture consists of rest, pain control, serial casting, and rehabilitation to maximize function. Ongoing debate surrounds the issue of whether medical or surgical therapy is more appropriate for this injury. Conservative management of Achilles tendinosis and paratenonitis includes the following. Physical therapy. Eccentric exercises are the cornerstone of strengthening treatment, with most patients achieving 60-90% pain relief. Orthotic therapy in Achilles tendinosis consists of the use of heel lifts. Nonsteroidal anti-inflammatory drugs (NSAIDs). Tendinosis tends to be less responsive than paratenonitis to NSAIDs. Steroid injections. Although these provide short-term relief of painful symptoms, there is concern that they can weaken the tendon, leading to rupture. Vessel sclerosis. Platelet-rich plasma injections. Nitric oxide. Shock-wave therapy.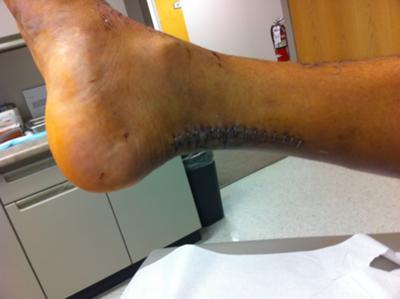 Surgical Treatment
There are two different types of surgeries; open surgery and percutaneous surgery. During an open surgery an incision is made in the back of the leg and the Achilles tendon is stitched together. In a complete or serious rupture the tendon of plantaris or another vestigial muscle is harvested and wrapped around the Achilles tendon, increasing the strength of the repaired tendon. If the tissue quality is poor, e.g. the injury has been neglected, the surgeon might use a reinforcement mesh (collagen, Artelon or other degradable material). In percutaneous surgery, the surgeon makes several small incisions, rather than one large incision, and sews the tendon back together through the incision(s). Surgery may be delayed for about a week after the rupture to let the swelling go down. For sedentary patients and those who have vasculopathy or risks for poor healing, percutaneous surgical repair may be a better treatment choice than open surgical repair.
Prevention
The following can significantly reduce the risk of Achilles tendon rupture. Adequate stretching and warming up prior to exercising. If playing a seasonal sport, undertake preparatory exercises to build strength and endurance before the sporting season commences. Maintain a healthy body weight. This will reduce the load on the tendon and muscles. Use footwear appropriate for the sport or exercise being undertaken. Exercise within fitness limits and follow a sensible exercise programme. Increase exercise gradually and avoid unfamiliar strenuous exercise. Gradual ?warm down? after exercising.
| HOME |